Las Vegas, Nevada, USA, is well-known for its extravagant casinos, vibrant nightlife, and luxurious hotels. In addition to these features, Las Vegas is also home to some of the tallest residential buildings in the United States. In this article, we will discuss the 7 tallest residential buildings in Las Vegas, NV, USA and provide insights into their heights, architectural features, amenities, and some fun facts.
The Strat Hotel, Casino & Skypod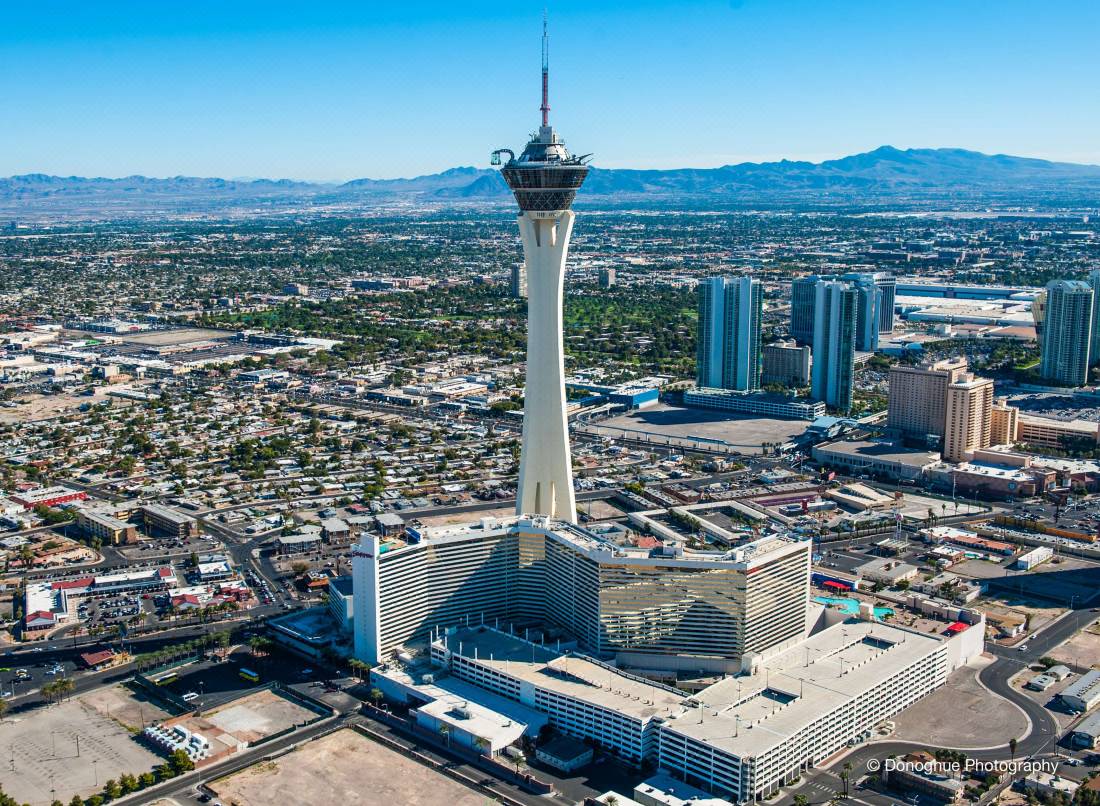 Height: 1,149 feet (350 m)
The Strat Hotel, Casino & Skypod (formerly known as the Stratosphere Tower) is America's tallest freestanding observation tower and doubles as both a hotel and casino, as well as housing luxury condominiums. As an iconic symbol of Las Vegas' skyline, it offers breathtaking views from its observation decks and thrill rides.
Fun Fact: The Strat boasts the highest thrill rides in the United States, including the SkyJump, a controlled freefall from the 108th floor.
Panorama Towers
Height: 513 feet (156 m)
Panorama Towers is a luxury condominium complex consisting of two 33-story towers. Located west of the Las Vegas Strip, these sleek, blue glass buildings provide residents with stunning views of the city and surrounding mountains. The development features contemporary design, state-of-the-art amenities, and a convenient location.
Fun Fact: Panorama Towers was designed by renowned architect Klai Juba Wald, who also designed the Hard Rock Hotel and Casino.
The Martin
Height: 498 feet (152 m)
The Martin, a 45-story luxury condominium tower, is located just off the Las Vegas Strip. Its elegant design, which includes a curved glass facade, sets it apart from other buildings in the city. Residents enjoy top-notch amenities, such as a resort-style pool, spa, and fitness center, as well as breathtaking views of the Strip and the surrounding mountains.
Fun Fact: The Martin was originally named Panorama Tower North but was rebranded in 2011 after Dean Martin, the legendary entertainer, and Las Vegas icon.
Turnberry Place
Height: 477 feet (145 m)
Turnberry Place is a luxurious, high-rise condominium complex consisting of four 38-story towers. Located just off the Las Vegas Strip, Turnberry Place offers its residents a private and exclusive living experience. The development features spacious residences with floor-to-ceiling windows, high-end finishes, and a range of resort-style amenities, including a private clubhouse and spa.
Fun Fact: Turnberry Place is home to the Stirling Club, an exclusive, members-only club offering fine dining, a spa, and a state-of-the-art fitness center.
Trump International Hotel & Tower
Height: 620 feet (189 m)
The Trump International Hotel & Tower is a luxury hotel and condominium complex located just off the Las Vegas Strip. This 64-story golden glass tower features elegantly designed residences with floor-to-ceiling windows, marble bathrooms, and gourmet kitchens. Residents at this world-class hotel have access to its extensive amenities, such as a spa, fitness center and gourmet restaurants.
Fun Fact: The Trump International Hotel & Tower was designed by the same architectural firm responsible for Dubai's iconic Burj Khalifa.
The Cosmopolitan
Height: 603 feet (184 m)
The Cosmopolitan is a luxury resort, casino and residential complex situated along the Las Vegas Strip. It features two 52-story towers offering breathtaking views of both city and mountain scenery. The Cosmopolitan offers plenty of amenities like its casino, spa and fitness center as well as numerous dining and entertainment options.
Fun Fact: The Cosmopolitan boasts the renowned Chandelier Bar, a multi-story visual spectacle with over 2 million crystal beads adorning every surface.
Veer Towers
Height: 480 feet (146 m)
Veer Towers is a residential complex situated within CityCenter on the Las Vegas Strip. The two 37-story towers have a unique, leaning design that gives the impression they are veering off course. Veer Towers offers luxury living with a range of amenities, such as a rooftop pool, fitness center, and private residential entrance.
Fun Fact: The Veer Towers were designed by internationally acclaimed architect Helmut Jahn, known for his work on the Sony Center in Berlin, Germany.