The city of Hefei in China boasts some impressive architectural feats, specifically when it comes to office buildings. In this article, we'll take a closer look at the 7 tallest office buildings in Hefei China and their unique features.
1. The Anhui Greenland Center – Height: 1,161 feet (354m)
Topping our list is the Anhui Greenland Center. Completed in 2018, it stands as the tallest building not just in Hefei but also in all of Anhui Province. This supertall skyscraper has 85 floors and houses offices along with a hotel and luxury apartments.
The building's unique aesthetic incorporates green terraces on various levels that add texture to its façade and provide additional outdoor spaces for tenants. The top floor also boasts an observatory deck that offers panoramic views of the city.
Fun Fact: The tower was completed within three years from start to finish – a record time for a building of this height.
2. Wanda Plaza Building A – Height: 855 feet (261m)
At a height of 855 feet (261 meters), Wanda Plaza Building A is currently the second-tallest office building in Hefei. Completed in early 2020, it has already become an iconic landmark thanks to its sleek design featuring undulating curves and an all-glass exterior.
This mixed-use tower has retail areas on its lower floors while its upper levels boast spacious offices that are highly sought after by companies looking for an impressive address with state-of-the-art amenities.
Fun Fact: This building is part of the massive Wanda Cultural Tourism City development which includes theme parks, theaters, hotels, shopping malls, etc., making it a prime destination for both business and leisure travelers.
3. Anhui Radio & Television Center Tower B – Height: 797 feet (243m)
Sitting at third place on our list of the tallest office buildings in Hefei is Tower B of the Anhui Radio & Television Center. This building was completed in 2016 and has since become a defining element of the city's skyline owing to its striking futuristic design.
This tower mainly comprises offices as well as a few residential units. Its most impressive feature, however, is the massive LED screen that wraps around its main façade, projecting dynamic graphics and videos that can be seen from miles away.
Fun Fact: The LED screen consumes so much power that it had to be designed to function like a large battery – it stores energy during low-usage periods so it can continue operating without interruption.
4. Greenland Jinling International Financial Center – Height: 758 feet (231m)
Named after its largest tenant (the Jinling Hotel) this towering structure reaches up to 758 feet (231 meters) and ranks fourth on our list. Greenland Jinling International Financial Center houses various financial institutions along with commercial offices and restaurants.
The building's sleek triangular form commands attention while its all-white façade gives it an elegant appearance that stands out amid Hefei's taller glass-clad towers.
Fun Fact: The tower hosts an annual stair race where participants compete by climbing up all 52 floors – winners receive cash prizes and bragging rights!
5. Huarun Times Square Tower B – Height: 656 feet (200m)
With its impressive height of 656 feet (200 meters), Huarun Times Square Tower B stands as one of Hefei's most recognizable office buildings. It features curved lines on both sides creating an hourglass shape making it easy for people to identify even at great distances.
This building accommodates dozens of reputable organizations ranging from top-tier law firms to established consulting companies.
Fun Fact: During festive seasons, the top floor balcony transforms into a giant snow dome creating a magical winter wonderland experience for those lucky enough to visit.
6. Hefei Wanda Office Tower – Height: 607 feet (185m)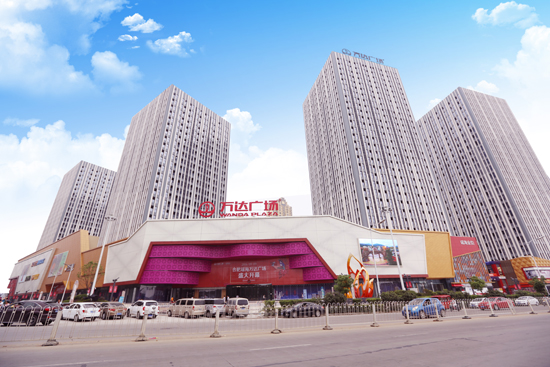 Coming in the sixth position on our list is the Hefei Wanda Office Tower. Completed in 2014 and standing at 607 feet or (185 meters), it serves as the headquarters of Wanda Group's offices in Hefei.
The building's design is meant to reflect financial prosperity, making it especially appealing for financial institutions that seek premium office spaces.
Fun Fact: The tower has a rooftop helipad that provides access for business leaders as well as VIPs who want to arrive in style.
7. Zhengwu Center A – Height: 541 feet (165m)
At number seven on our list, we have Zhengwu Center A with a height of 541 feet or (165 meters). The building was completed in 2018 around the same time as Anhui Greenland Center and features an ultramodern structural form that contributes to its unique appearance.
This structure houses several government agencies including the city's primary land development bureau located on its top floors.
Fun Fact: The building was chosen as one of five landmarks representing Hefei City's achievements thus far.
There you have it, a comprehensive look at some of Hefei City's tallest office buildings! From their staggering heights to unique designs, each represents something distinctive about this thriving metropolis.